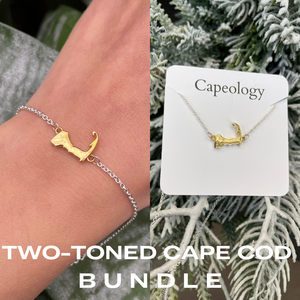 Our Capeology two-toned Cape Cod bundle features our brand new two-toned Cape Cod necklace and matching bracelet.
These pieces are a twist on our bestselling classic Cape Cod Collection! Made out of sterling silver, the Cape piece is plated with a gold overlay.
Check out our classic Cape Cod bundle here!
The necklace chain is adjustable and has the option to be worn at 16, 17, 18 or 19 inches in length. The back of each piece is engraved with "CAPEOLOGY." Proudly made in the USA!